Back to Top
Indoor Putting Green Design
So, you know you want a putting green for your home, golf team, putting studio or office. But, our standard models don't quite fit your space perfectly.
Well, we want your green to be perfect so, we're here to help you get what you want. We put a lot of thought into our standard models, they're designed to be short game practice machines. We've listened to our customers through the years and in many cases the standard models work well.
But, you may not know that over 60% of the greens we ship have some level of customization.
Want to add or remove a hole? No problem.
Want to add 2′ to the length or width? No problem.
Want to add a fringe border? No Problem.
Need a custom L Shape size? No Problem.
Want a corner green that fits your space perfectly? No Problem.
How about an inlay chipping area? No Problem.
Need help designing your indoor facility? We do that too!
We design indoor putting greens for clients each and every day. Customization is no problem at Pro Putt Systems because we stock all panels, components, putting turf and various types of chipping and hitting turf in our shop and our guys can build anything you like.
This gives us the unique flexibility to create "cut to order putting greens".
Let's go over the basics…
What Are Your Greens Made From?
A couple common questions in regard to custom greens revolve around materials…
Do you use your best turf an all putting greens? Yes, from turf only to wall to wall golf rooms we only use TourPutt Ultimate. TPU has a 21 year history, it is made from dual color "Miraset" nylon, it is warrantied for 10 years (that's an outdoor warranty), and it does not require any infill. The Miraset process is our secret sauce and it is proprietary to TPU. The end result of our manufacturing process is a turf that is incredibly tight and dense. TPU has structure and durability, which creates putting and chipping performance unlike any other turf.
TPU rolls in the range of 10.8 to 11.6 on a USGA Stimp Meter, when it is on the interlocking base panel system, or a hard flat surface.
What are these panels all about? Good question. Interlocking Base Panel Technology is one of the greatest inventions in the history of indoor golf.
First and foremost; these panels are not made from foam or foam rubber. The foam panels you may see elsewhere are knock-offs, they're cheap and dysfunctional. Don't get me started.
Here is a base panel graphic to review:
As you can see in the detail, a standard panel covers an area of roughly 2′ x 2′, it is 2″ thick, you can literally drive a car on them, and they come in a few varying geometric shapes. The 5 size/shapes you see above are the 5 panels that we use to make all of our greens with base.
I'm not a polymeric engineer but I can tell you that they are made from some durable stuff (they weigh 8lbs each).
Most importantly, while they are durable, somehow, they are also able to flex in order to add nice smooth, rolling undulations and breaks….and when you want the base system dead flat again, take the undulation material away, they snap back to dead flat.
The base panels are 2″ thick, TPU putting turf is .5″ thick thus, you get a 2.5″ drop into the cups. Watching and hearing the ball disappear into a cup is a vitally important aspect of effective putting practice.
Do I need the panels or can I go with turf only? Another great question. The answer is no, the panels aren't completely necessary but, the way the panels and the turf work together creates an optimal practice surface.
With that said there are many circumstances where our customers opt for a turf only option, either in bulk, in one of our pre-cut sizes or a custom cut size.
The panels serve three primary purposes
1) They elevate the turf off the ground, so the ball drops into a cup and you don't have to core drill holes in your floor.
2) They allow for the addition and subtraction of smooth rolling undulations. You simply place an Easy Breaks and Undulation Kit underneath the assembled base panel system and you have just about any shaped putt you want, even uphill and downhill.
3) This is very important to many of our customers. The panels and the turf work together to absorb and disperse energy from a golf ball being chipped to the surface. This relationship creates a very realistic "check and run" on all those little short game shots you'll encounter on the course.
Plus when you are using a simulator, there are more benefits:
4) We can inset a high quality mat directly in the floor for that very clean and professional look. We call this custom simulator flooring.
5) When using a floor mounted launch monitor, we can channel the interface and power wires beneath the turf, inside panel system and have them pop up where you want them, as opposed to having wires run across the floor.
Now that you have a basic understanding of the materials involved, let's discuss the types of custom greens we build here at Pro Putt Systems.
Varying Levels of Custom
Let's give you the low down on the lingo we use around here, that way when we talk, we're speaking the same language.
Custom with Bump Rail
You'll notice that all of our standard models have a bump rail border. This bump rail is molded right in that particular type of panel. You can stand on it and kick it, the bump rail won't budge. We can create inside corners, bump out corners and rectangle or square greens with rounded corners.
Custom greens with bump rail edge is the most popular type of custom we build.
* The reason we love custom greens with bump rails around the outer edge is because they're easy for you to install, they're very cost effective and most importantly, the overall square footage is ALL PUTTING SURFACE. Let me explain…
Both of these greens shown below are 8′ x 12′ in footprint, they both have 5 cup positions, however note the actual size of the putting surface:
Longest Putt: The green with the fringe border has a putting surface which is only 6′ x 10′ in reality. The longest effective diagonal putt for the green with the fringe border is about 9′ while the effective diagonal longest putt of the green with the bump rail is nearly 12′.
Useable Square Footage: The useable square footage of the green with the fringe border is only 60 ft2, while the useable square footage of the green with bump rail is 96 ft2.
Price Comparison: The fringed green is going to price out around $2,645 shipped, while the green with the bump rail will price out around $$3,000 shipped. The fringed green will price out approx. 20-30% higher while it offers 30% less putting surface square footage.
I'm not trying to discourage you from going with a green with fringe, we sell numerous fringed greens each week. Many people want what they want and that is that, we're fine with this.
Custom with Fringe
Custom greens with a fringe border have a ton of aesthetic appeal. But here is what I'd like to explain, the fringe border is largely there to obscure the transition and add some cool, natural shape, NOT NECESSARILY THERE TO CHIP FROM.
You can chip from the fringe border, but it is slanted to cover the transition. We offer a few different chipping mats and pads for chipping which all have multiple chipping surfaces and they're portable (ie. you're not stuck chipping from the same distance all the time).
Custom greens with fringe borders come in a couple different formats:
1) Free Standing in a room – a green that has a transition from the level of the putting surface down to the floor around the entire circumference of the putting green and…the green shown below this type of custom.
2) Here's an example of a hybrid fringe border and bump rail. In this case, the customer liked the fringe look on the side where he could see it from the other rooms in his home. But, he didn't want to spend unnecessary money fringing the other sides that he could not see regularly.
3) Corner greens – a green that goes flush on 2 or even 3 sides in a corner. This type of green will usually have a transition border only on the exposed sides of the putting green, against the walls, it is flush with either putting turf right up to the wall or putting turf then fringe turf up against the walls.
While we travelled to install the two greens shown above, it is not at all necessary to pay us for installation. The green below was designed in our office, cut in our shop, then shipped to Chicago where the customer installed himself. (and he is about as handy as me…not very)
Custom Wall to Wall
Custom installed golf rooms are very popular in luxury homes, college facilities and high end clubs. They pack a visual punch unlike any other green. When they're designed properly, they are just as functional as they are beautiful.
In almost all cases, one of our crews is going to travel to install a wall to wall golf room.
Here are a few examples of wall to wall for review.
This is a wall to wall green complete with undulation, inlay tight lie chipping areas, fringe border on one side for rough chipping and 7 cups.
This green features a 45′ putting surface, multiple inlay chipping areas, custom undulation, numerous cups, it was designed so the customer would never get bored and he can practice any type of short game shot he wants.
Pro Putt Systems designed and built this college golf room for Saginaw Valley State University. This green features a 52′ green, undulation, multiple inlay chipping surfaces, custom portable chipping pads, handicap accessibility and a huge area covered in tight lie chipping turf for endless hours of short game practice.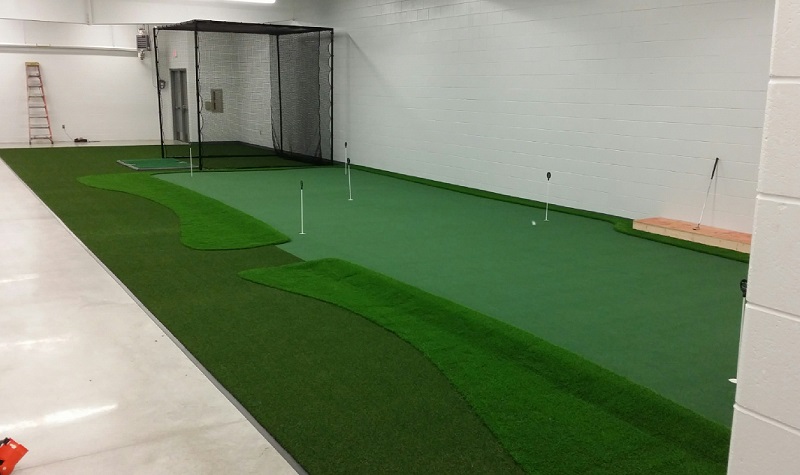 Wall to wall isn't just for commercial projects, here are a few residential wall to wall greens.
The point is, whatever indoor putting green design you can imagine, we can help bring to life. Even if you're imagination is lacking, we can help there too. Give us a basic sketch of your area with simple measurements and we'll design it for you.
You give us this:
We'll return this:
Keep in mind, we also offer materials for DIY Projects. If you're handy and just want materials to design your own indoor putting green, no problem, we're here to help.
Give us a call 844-PRO-PUTT (776-7888) or visit our contact page and leave us a note, we'll be back in just a few minutes, 7 days a week.
The only limit is your imagination!

Posted February 10, 2022
by Pro Putt Systems
Most Recent Articles
Explore More Topics