Pro Putt Systems can provide standard size greens or custom putting greens for commercial or promotional purposes with flexibility and affordability unlike any other company.
We assist in the design and planning for your green. Each customer is unique and each commercial situation requires a particular set of needs.
Crate and Freight Ship to Venue
Custom Putting Games
Inlay Corporate Logos
Office Golf Room Greens (we've worked with Google, Cisco, Pitney Bowes, Garmin and many others)
Office Break Room Greens
Replica Greens
Emergency Greens – (need a green fast, call us)
Large Custom Display Greens
Instructional Greens (putting and chipping)
Long Putt Promotional Greens
ADA Compliant Greens
A very common question about trade show and promotional greens is: "Are these easy to set up?"
Yes, all of our greens with no fringe are going to set up in 20-25 minutes and there are no tools needed. The base panels (8lbs each – 23" x 23" squares) and turf (.70lbs per square foot) are quite heavy however, but all trade shows will provide machines or dollies for moving boxes and such.
USGA Chooses Pro Putt Systems for US Open Promotion
The United States Golf Association wanted a high quality green which will be used by thousands of golf fans over a month long stay in the Seattle Airport leading up to the US Open at Chambers Bay.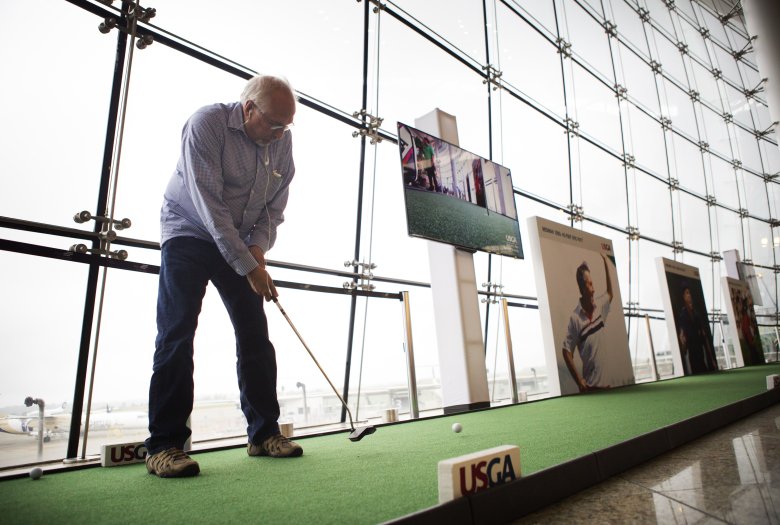 This 6′ x 60′ custom putting green began its cross country tour with a stop in New York City for a Fox TV Promotion on the morning show Fox & Friends, April 29th, 2015.
Trade Show Putting Greens
From a small promotional green for standard 10' x 10' booth to sprawling custom trade show booths, we have an option to fit your needs.
A Berkshire Hathaway Company, Applied Underwriters wanted a 10' x 20' custom trade show putting green to attract more attention to their booth and better engage their trade show attendees. Everybody knows insurance guys love golf.
This green is shaped like a dog bone. It features custom cut base panels, computer cut putting turf and a fringe border seamed into a single roll for easy set up and tear down, 3 cup and pin locations and some undulation to add difficulty to a very creative putting game they developed. They were nice enough to report back that they generated more leads at this show than any show they had done in the past.
Chase Bank asked us to design, build and ship this green with real cups and heavy undulation for their tent at the Ryder Cup in Minnesota. The golf fans loved it!
Modular Solutions for Event and Trade Show Companies
Our base panel systems are completely modular so, if you need a green that fits in a 10 x 20 booth for a putting game for a customer next week and you have another customer who wants a green for a 10 x 10 booth a few weeks later, no problem. We'll cut two pieces of turf and the panels will work for either green. Pretty slick!
Corporate Solutions for the Office
Columbia Property Management wanted a custom replica green for their new office in Arkansas. They have a very interesting logo and they wanted to somehow have it inlaid in the green but, didn't want to hinder the performance of the putting surface itself.
Our design team worked with them to design a replica of the 17th Island Green at Sawgrass Stadium Course. We used the bunker to inlay their Elephant Logo. The guys look like they're having some fun. I bet they're shaving strokes off the old handicap as well. Get back to work!
Corporate Environments like this awesome KPMG Ignition Center is no problem for Pro Putt Systems! We worked with KPMG and ASD Sky to design and install  a 550 sq ft putting green, turfed amphitheater seating and over 2,000 sq ft of turfed areas around this multi-million dollar office upfit.
Office buildings find a high quality putting green is a valuable amenity for attracting solid tenants. This office and mixed use real estate investor in Columbia, SC hired Pro Putt Systems to design and build this indoor green in the main level of the building.
Assisted Living Facilities
This Florida customer asked us to build a simple 9 hole green for putting games and entertaining contests as an amenity for their guests.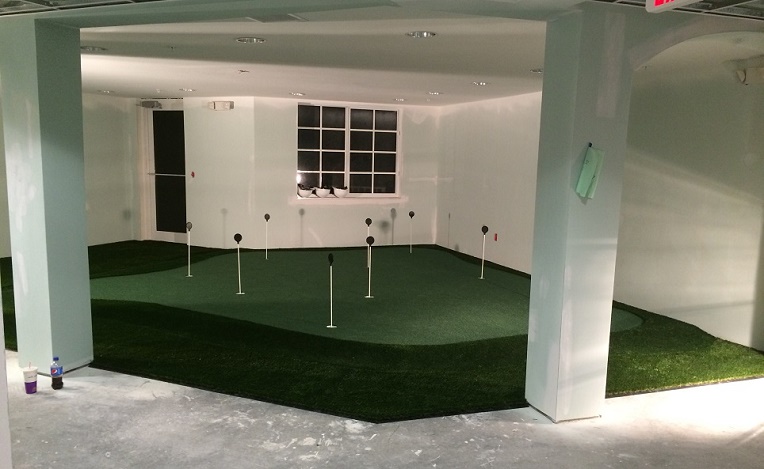 Golf Industry Conferences and PGA Shows
If you're going to demonstrate some "Unconscious" short game techniques for a group of PGA Professionals, you're going to need a putting green.
Dave Stockton and Dave Stockton Jr at The International PGA Merchandise Show a few years ago on a large 18' x 23' Tour Links custom putting green. Complete with an elevated putting surface, undulation, 3 cups and a fringe border.
Charity Fund Raisers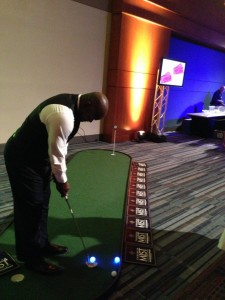 When the Jimmy V Foundation held their annual fund raising function in Raleigh, North Carolina they called on Pro Putt Systems to provide a few putting greens to entertain the donors and celebrities.
Reports are, they couldn't get Emmitt Smith out of the building at the end of the night. (Kidding!)
Pro Shops and Golf Retailers
If you want to sell putters you'll need a putting green. We see some pretty sorry excuses for putting greens in golf retail shops and even country clubs. There's no excuse for green carpet or foam anymore! Watch your putter sales soar with the addition of a Pro Putt Systems Golf Shop Model indoor putting green.
You can even turn your green into some extra cash by joining our referral program and putting out a few flyers.
Long Putt Promotions
Dave Edwards Toyota in South Carolina wanted a long putt solution for a Masters Week Special Promotion they were running. They didn't want to spend a fortune as they only run a golf themed promotion once per year. So, Pro Putt Systems designed a long putt promotional green for them that the customers enjoyed and, Mr. Edwards loved the price.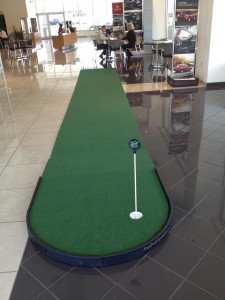 This green is 30' long and very easy to store after your promotion is over. Only 4 base panels make the elevated area so the ball can actually drop into the cup and a single roll of turf rolls up and stores away in minutes. A transition up to the elevated area goes up 2" over a 24' span. Quick and easy set up and tear down.
There are a few things we can't do:
We cannot paint or stain the turf, logos must be computer cut and inlaid
We don't offer props and such, like wind mills and things like this
We generally do not rent greens, shipping is cost prohibitive (if you're a promotion company, we may offer partner discount)
We don't provide putting peripherals like putters and balls
We can't develop concepts from complete scratch, we'll need a direction (basic sketch is fine) before we get started
We don't provide custom flags, please visit StandardGolf.com (no need for us to be in the middle)
We do not provide colored putting turf (other than green of course), we do provide a wide range of colored fringe turf for inlay logos
Please note: On large, complex projects with extensive design and creative needs we may require a deposit prior to releasing any sketches or renderings. We will also require we discuss specifics like estimated budget and such with the decision maker in order to set expectations in advance.
If you're a trade show or promotional company and the design is extensive, we will also require to see a signed engagement letter from the customer prior to releasing any design work or proposals. Thank you in advance for your consideration.
---