Pro Putt Systems builds putting greens of all shapes and sizes. If you're looking for ideas for your putting green project maybe this small sample of recent projects can provide some inspiration.
As always, if don't see something you like, let's design your dream green for you!
We build and ship throughout North America. We install throughout the United States.
If you are building a Golf Simulator Room visit our custom simulator greens page. We can inset any hitting mat directly in the green for that clean, professional look. 
When the USGA was looking for a realistic and durable putting green to showcase at the 2015 US Open they called on Pro Putt Systems to get the job done. This 6′ x 60′ custom green spent a month in the Seattle Airport and was enjoyed by thousands of avid golf fans.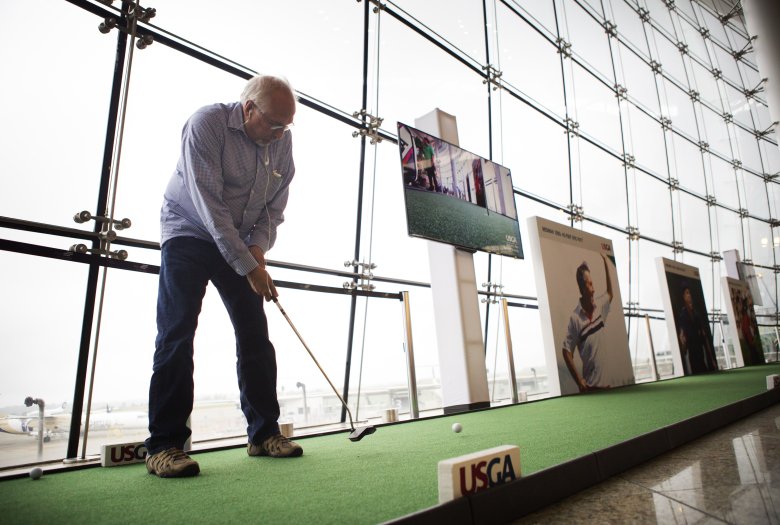 When Virginia Tech was looking for help designing the all new Hokies Home of Golf, they called on Pro Putt Systems to get the job done. This awesome golf room features a two tiered putting and chipping green, 13 cups, thousands of breaking putts, inlay True Strike hitting mats, 3 different chipping surfaces and TourPutt Ultimate AT Putting turf.
Here are pics of the finished Virginia Tech Golf Room:
The Ken Duke Indoor Golf Center on campus at Henderson State University. This project totals 3,200 square feet of putting, hitting, chipping, pitching and golf training goodness. We'd like to thank Ken Duke (PGA Tour), Forrest Schultz (Dir of Golf) and the HSU Foundation for trusting us to design and build this awesome indoor facility.
Wake Forest University called on Pro Putt Systems to install a 12′ x 70′ tee line hitting system inside the Arnold Palmer Golf Complex on campus. This tee line installation features cutting edge base panel technology called UltraBaseSystems. UBS adds numerous benefits including:
Increased economic life of the hitting turf
Total control over drainage
Minimized risk of injury to players
Perfectly stable hitting surface
Maximum hitting surface performance
The second Wake Forest project which we have been hired to perform are these two DIY Backyard Putting Green Kits which will be an amenity for the newly constructed Luxury Student Housing project on campus called "Deacon Place".
These two greens feature UltraBase Systems panels, TourPutt Ultimate HC, and are a total of 1,054 square feet. They were pre-cut as a kit in our build facility and shipped to the site for install. *They were installed on a steep grade so, far more base material is needed than a normal DIY Install.
The West Virginia Mountaineers head golf coach, Sean Covich, engaged Pro Putt Systems to install a major upgrade to their indoor facilities. This putting green is 45′ long and 25′ wide, it features numerous lies to chip and pitch from, a fringe border and an area of undulation.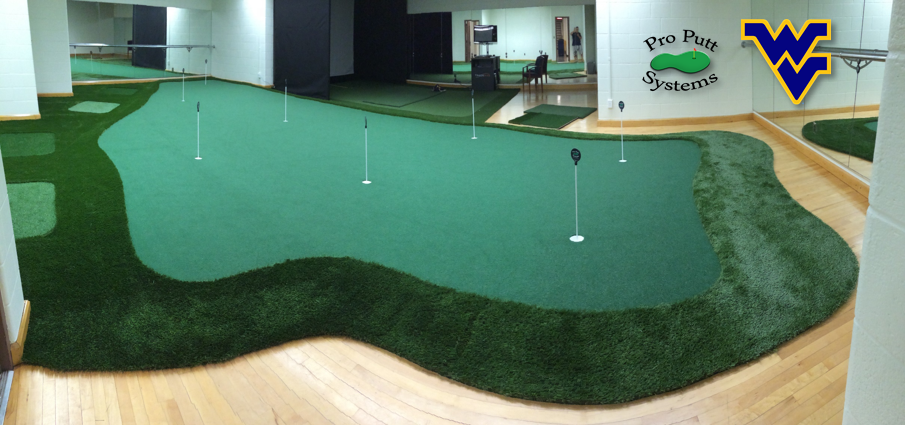 Kansas State Golf and Head Coach Grant Robbins, asked us to help them design and install their new indoor golf facility near their Manhattan, KS campus. 2,300 sq ft with an inlay True Strike hitting mat, multiple chipping areas and signifacnt areas of undulation. 
The Tallulah Falls School "Tribe" asked us to help design and install a 1,500 sq ft golf room on campus. TFS is a prestigious prep school in Georgia, it was an honor to work with them and their contractor making this happen. The room features a massive putting and chipping complex, numerous inlay chipping and pitching areas, undulation, ADA compliance and a turf only area ready for the guys at Foresight Sports to do their thing. Go Tribe!
The First Tee Augusta, GA Chapter asked us to install a tee line at the back of their driving range facility in preparation for The Masters and to provide the best available hitting surface for the kids who participate in the First Tee Program.
Princeton University Golf once again hired Pro Putt Systems to build their new indoor golf training facility complete with hitting mats, putting green and private coaching areas.
This Chicago customer called on us to help him design a gorgeous indoor putting green for him. Our staff thinks this room is one of the best pure pictures of the year! 
An assisted living operator in Florida wanted to be sure their golfing residences were entertained in the hot Florida summers so they hired Pro Putt Systems to build this putting green in a common area. This green has 9 cup locations for mini-golf like games and activities.
The historic Washington Golf and Country Club in Arligton, VA chose Pro Putt Systems to design and build their 2,400 square foot indoor putting and chipping complex.
SalesForce Tower in Indianapolis added a putting green amenity in a common area for tenants to use. Ready for the flooring guys!
Augustana College in Rock Island, IL asked us to convert 2 racketball courts into a putting and hitting studio for the golf team. 1,600 square feet of awesome golf practice! Special thanks to Coach Tom Lawrence and Athletic Director Mike Zapolski for giving Pro Putt Systems the nod on this project.
Winona State University AD Eric Schoh hired Pro Putt Systems to install a putting and chipping complex to replace 2 racquetball courts on campus. This project was complete with an elevated green, undulation, inlay True Strike for their GCQuad, 2 True Strike Academy mats, multiple inlay chipping areas and 2 hitting enclosures.
Bob's Indoor Golf in Idaho Falls, ID had us Build and Ship this multi-segment 1,600 indoor putting green. It includes a 9 hole putting course with undulation, a drills area, a putting games area and a chipping area. 
Saginaw Valley State head coach, Joe Vogl, hired Pro Putt Systems to build this indoor practice complex in the mezzanine level of their new field house. This green is 52′ long and 22′ wide. It features a rectangular border made of 1″ tight lie chipping turf, a thick fringe border for rough chipping, 3 portable chipping pads and hitting nets.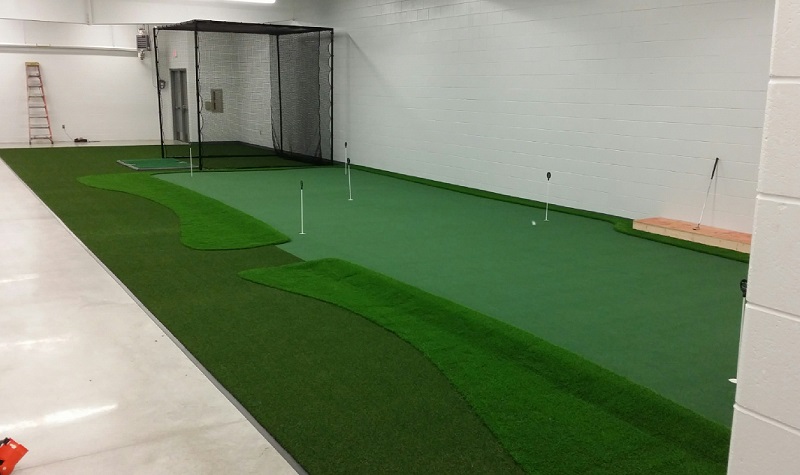 University of Southern California tested numerous brands of turf before they chose Pro Putt Systems TPU Putting Turf to be part of their $35 Million renovation of Heritage Hall on Campus. Head Coach Chirs Zambri and his team are maximizing player potential in the USC Golf Performance Laboratory shown below.
Catholic University of America in Washington, DC installed this new golf room featuring a large putting and chipping green with undulation, a full swing area and some additional turf for a workout area.
Knox College Golf Coach KC Harding hired Pro Putt Systems to design and install their 1,890 sq ft indoor golf training center. Putting, chipping, undulation and an aboutGolf Simulator are some of the amenities in this awesome college golf room. #goPrairieFire
This customer in Virginia finished off a dream home with an awesome golf room. This room is over 1,000 sq ft of putting and chipping surface, features multiple chipping areas, undulation, an inlaid True Strike mat, a simulator, and platform for theater seating. #awesomegolfroom
This Maryland customer loves his sports! We added a 700 sq ft golf room to a mezzanine level in his home, right next to the basketball court of course. This golf room is complete with numerous lies for chipping and pitching, undulation and putts of greater than 45′.
PGA Tour Player and Top 25 ranked player in the world, Marc Leishman was referred to Pro Putt Systems by a fellow player to build this 400 sq ft+ green.  Complete with chipping and numerous undulating putts.
This Lousiana customer had us design and build a green with True Strike mat integration for his Foresight Sports GCQuad simulator. He also requested that a portion of the green be built in a way that allows for him to remove the base panels and roll up the turf for when he has large family gatherings at his property. This green has chipping, undulation and his Swing Catalyst wiring / Sim Wiring is channeled beneath the panel system.
KPMG, Inc. and world-class design firm ASD Sky, called on Pro Putt Systems to execute numerous aspects of this awesome, multi-million dollar office up-fit for the latest KPMG Ignition Center in Midtown Atlanta. This office features a 600 sq ft putting green with 9 cups, numerous areas of shaped turf flooring, turfed amphitheater seating and hundreds of square feet of wood flooring / turf integration.
Hearthstone Health and Fitness added a putting green to their newest facility in Maryland.
This Myrtle Beach client asked us to design and build a wall to wall golf room above his garage in a previously under-utilized play area. Complete with breaks and undulations, chipping pad and numerous fun putts, his young golfers can now practice in any weather and any time of day.
This customer took the term Golf Man Cave to another level. This room will be finished with a simulator and various golf electronics. #awesomegolfroom
This Ohio customer had us transform this unused basement space into an awesome golf room featuring over 1,500 sq ft of putting surface, undulation chipping and inlay True Strike Gel Section. This room is ready for the simulator install guys!
Another example of Custom Simulator Flooring, this golf room has an inlay True Strike Hitting Surface, Undulation, an Inlay Chipping Area and it's ready for the Foresight Guys to do their thing.
Tom Spargo of Spargo Golf, a Top 100 Club Fitter in Rhode Island had Pro Putt Systems build a new custom putting green for his Scotty Cameron putter fitting studio.
Pro Putt Systems, in coordination with K-Studio, spec'd this high tech golf studio in NH.
Pro Putt Systems assisted this group of Golf Professionals in building out an indoor practice facility including a Green Monster Model putting green, chipping pads and customiz-able undulation for practicing every putt imaginable.
Golf on the Green in New Milford, Connecticut hired Pro Putt to finish off their indoor practice facility with this 18′ x 30′ custom golf room. This green features multiple inlaid chipping areas and undulation.
When Orange County National wanted to upgrade their pro shop putting green, they hired Pro Putt Systems to build this 28′ custom green. The OCN Logo and the Odyssey Logo were water-jet cut to spec and inlaid in the fringe area at the near end. Callaway/Odyssey co-sponsored this project w OCN. (this is the 3rd time Callaway has spec'd PPS TPU Putting Turf for projects.)
This North Carolina customer wanted to build a piece of indoor golf paradise. This green is 45′ long and 17′ wide and includes hundreds of chipping and pitching possibilities, a High Definition Golf Simulator and 100% building floor coverage of fringe turf.
This customer called on Pro Putt Systems to layout this converted garage for Foresight GC2 simulation and putting. We helped him maximize his space and and get all the functionality he was looking for.
University of Rochester head golf coach, Dan Wesley, hired Pro Putt Systems to build this indoor practice area in a converted boiler room on campus.
Another example of a customer who had us design and build a custom green which he could install himself. We designed the space, built it in our shop and shipped it to the customer.
Avaya and General Contractor Danis Construction contracted Pro Putt Systems to design and build a nearly 1,000 sq ft indoor putting green and turf area to compliment a relaxation zone in their newly built office in Durham, NC. This is one of many recent (and upcoming) projects involving large companies which understand the value to their team members, of down time and golf in their office environments.
This Chicago customer turfed and entire commercial building with TPU Putting Turf and fringe border. This was his third order from Pro Putt Systems.
This real estate investment company, based in Chicago, hired Pro Putt Systems to design and install this 16′ x 36′ custom putting green in a mezzanine level of a Class A Office asset in downtown Columbia, SC. Adding high quality amenities, that fit the culture of the city, have proven to assist in leasing space quicker and to better lessees.
Winston Tower in Winston Salem, NC built an amenity area on the 12th floor which includes the "SKY PUTT" feature. The developer hired Pro Putt Systems to help design and build this unique amenity.
The Minikahda Club in Minnesota, one of the finest private golf clubs in the region, built out their indoor practice facility with all Pro Putt Systems products.
Marshall University Coaches Matt Grobe and Brooke Burkhammer hired Pro Putt Systems to design and build this golf room in a racquetball court on campus. #GoHerd!
This VA Customer hired Pro Putt Systems to build a wall to wall putting green and sweet simulator set-up in his new home.
This Maryland customer filled his entire 1,5000 sq ft patio into a putting course for his kids. Complete with cups and undulation as well as numerous chipping areas. Can't do a green like this the old-fashioned way!
Head Golf Coach at Binghamton University, Bernie Herceg hired Pro Putt Systems to design and build this racquetball court conversion golf room on campus in New York.
Learn all about Pro Putt Systems Golf Room Installation
To give you a few more ideas, here are some recent Build and Ship Customs. We build these in our Custom shop, label all parts, package up and ship to your door!
Here are a couple giants we recently shipped!
Asheville Christian Academy selected Pro Putt Systems to assist in the design process and then ultimately the installation of their new indoor short game facility on campus. Foresight Sports handled the Simulation.
Here are a few more Build and Ships that came out of the shop.
James Madison University in northern Virginia recruited Pro Putt Systems to design and build this 2,815 sq ft indoor golf and archery training center. Multiple sports, one solution. That's Pro Putt!
So, what can we do for you today? Give Us a Shout