Pro Putt Systems offers custom indoor putting greens in virtually any shape or size imaginable.
They are easy to order, simple to set up and fully portable in the event you were to move.
Best of all they're beautiful and incredibly functional.
"My husband and I would like to take this opportunity to express our greatest appreciation for the custom green you made for our son. It is phenomenal! The construction is top notch. The speed, bounce and overall quality of the surface is so realistic. It truly makes you feel as if you were on a country club green! I cannot say enough about your attention to detail and professional service. Everyone who has visited our home has been so impressed with the green and the chipping mat.  We have and will continue to highly recommend your company." Jenny – Denver, NC
USGA Taps Pro Putt Systems for "Epic Putt Challenge"
If you went to the US Open you may have seen the USGA Epic Putt Challenge featuring a 6′ x 60′ Pro Putt Systems Custom Putting Green.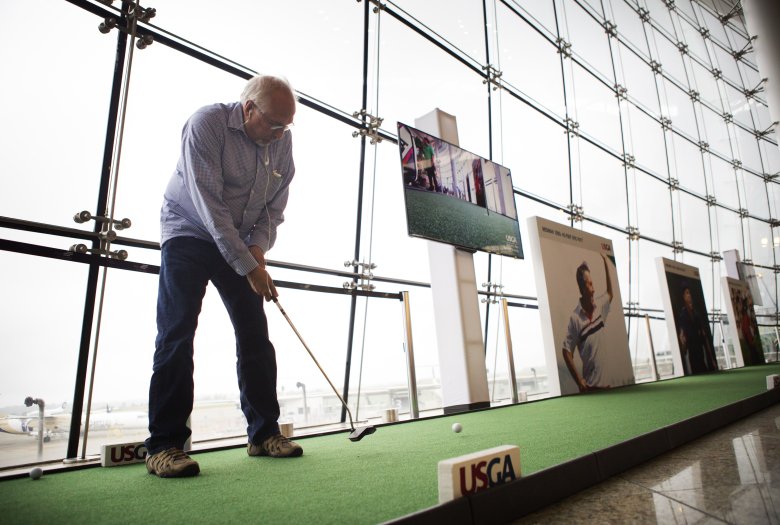 Here is your step by step guide to ordering your custom indoor green:
Step a1a
Please take a moment to view some of our standard model indoor putting greens so you can get an idea of the shapes we work with regularly and Standard Model Prices. You can view standard models here: All PPS Products
Step a1b – For detailed information about the different types of golf rooms we install visit this page:
Design Sheets: download here
Golf Room Design and Installation
Step 1
Measure the area where you would like to place your putting green. Create a crude sketch with all dimensions as well as any in-swinging doorways. Then snap a picture of the space from a couple different angles.
Step 2
Contact us using the form up and to the right or through our CONTACT PAGE. You will get an email back from one of our team members. Then you can send that team member an email with the rough sketch and images as an attachment.
*Please do review our standard model greens and their pricing, prior to requesting a custom putting green. It is important to note that custom greens with fringe border are gorgeous but they are a lot of work and they do carry a custom price tag. 
Step 3
We will call you if we have questions and then email you the sketch, specifications, and written quote. Once you agree to the design, we'll send you to a special link to the check out area where you can pay by Credit Card or Paypal.
Step 4
You place the order and we build, mark, pack and deliver the Putting Green to your home for self-installation.
Step 5
You install the putting green base which fits together like a puzzle, then roll the pre-cut turf onto the surface.
Simple as that.
*If you require a crew to travel to your home for installation, this can be arranged. This service is available for large custom installations only, additional installation fees apply. Our crews regularly make trips up and down the East Coast and on occasion the Mid West, get your golf room scheduled now!
Step 6
Enjoy your new putting green.
Step 7
Turn your green into the ultimate short game system with a MULTI-SURFACE CHIPPING PAD
Custom Simulator Flooring
Visit our Custom Simulator Green page to learn how to make your ultimate sim room!
When designing, keep in mind, these are the shapes we will typically want to work with:
We can cut panels, but we would attempt to design without cutting panels first.
While the actual dimensions are 22.75″ x 22.75″ please allow for 23″ per panel.
~
We recently added a 2,800 sq ft Dedicated Build Shop to our warehouse for "Custom Build and Ship DIY Install" greens:
UPDATE: We now have a 7,800 sq ft build space.
SECOND UPDATE: We now have a 13,000 sq ft custom-build shop!
Indoor / Outdoor / Permanent / Portable
The materials we use in our putting systems are of the highest quality and can be used inside your home or office and they can be used for outdoor applications such as rooftops, patios, decks, backyards or poolside.
You can add any undulation you wish and as many cups as you wish to your custom golf green.
You can add fringe to your green or you can maximize the actual putting surface available by skipping the fringe and adding a lip to the edge of the green.
You can also add a chipping pad that is fully portable so you can chip from different distances and angles.
The base system and putting turf is completely portable, you can take it inside for the winter and bring it back out for the summer months. For more information and images of wall to wall Golf Rooms: The Ultimate Golf Addict's Man Cave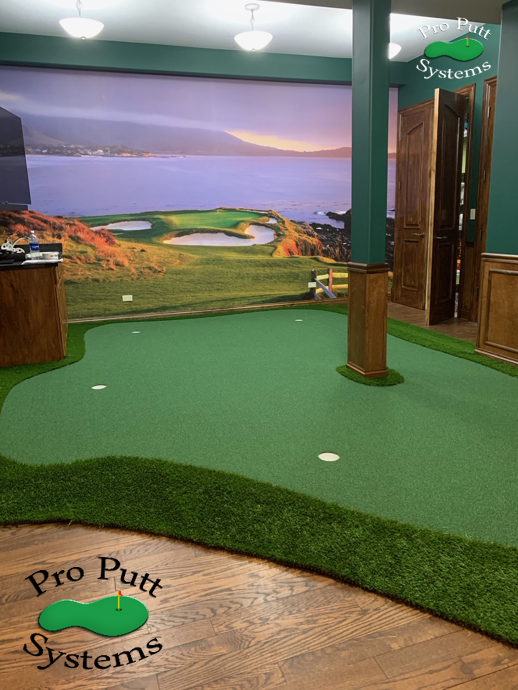 Please fill out the handy contact form on our Contact Page. Or, give us a call for a free design consultation: 704-464-1895 or Toll Free: 1-844-PRO-PUTT (776-7888)
Learn all about our Custom Simulator Greens with Integrated Hitting Mats