Pro Putt Systems has all the tools and experience to help you build your own professional or private putting and chipping studio. We can assist with anything from a simple piece of roll up putting turf, to a full Aim Point Instructional Studio.
Pro Putt Systems now offers No Money Down Commercial Financing for Indoor Facilities, Golf Clubs and Driving Ranges: Financing Options
We've assisted hundreds of golf pros outfit country clubs, storefronts or private golf studios. Instructors are finding value in opening year round short game studios for their members and guests. Some charge winter membership fees, some by the month or simply by the lesson.
As popular as year round short game studios are for golf professionals, homeowners love the idea of having private studios as well. Pro Putt Systems offers a full suite of products and services to help you outfit your home or office.
Design Services
Bulk Putting Turf for DIY Projects
Inlay Chipping areas
Roll Up Chipping Mats
Bulk and Custom Cut Continuous Tee Line
Standard Size Putting and Chipping Greens
Custom Size Putting Greens with Bump Rail Border
Custom Size Greens with Fringe Border
Custom Undulation Options
Golf Hitting Nets
Wall Murals
Golf Simulator Consultation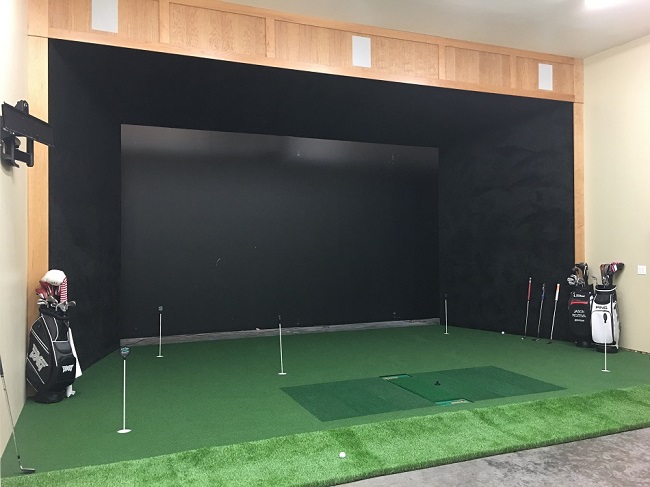 We can help you design and build the extravagant indoor golf paradise complete with a golf simulator, inlay chipping areas, wall to wall chipping turf and a 45' custom putting green with undulation and fringe border.
To the classic basement putting and chipping set-ups, which are some of our favorites. It may be cold outside but, these guys are still playing golf!
Of course the spare room is always a popular spot. As always, be sure you have clearance at home prior to tearing apart the dining room table and stuffing it in a closet!
Do any putter fitting? Check out these before and after pics of a putter fitting studio in RI.
This Hawaiian customer outfitted his Indoor Golf Studio with an 8′ x 20 Pro's Choice Green.
College golf programs are benefiting immensely from building indoor putting studios on campus.
Regardless of what the budget is, regardless of the size or complexity we are more than happy to help you build your own indoor putting and chipping studio.
Give us a call 844-PRO-PUTT (776-7888) so we can help you build a package that fits your needs.
Shop: Golf Studio Packages
---