Back to Top
College Indoor Golf Facilities – Now a Necessity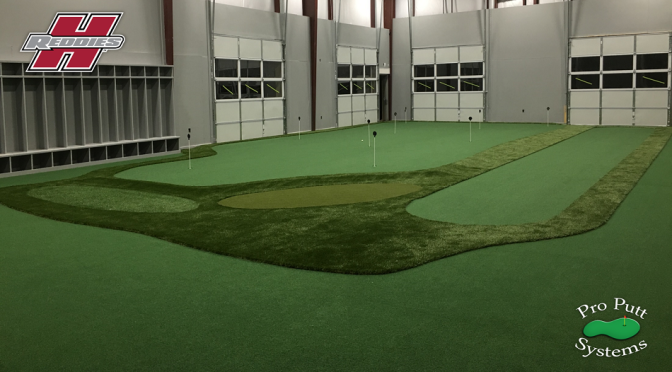 As I write this it's 29 degrees outside and needless to say, there won't be any golf played in the Northern US today. Or will there?
If you're a student-athlete at a school where the Athletic Director has had the foresight to build an indoor practice facility, there sure will be golf played today, or practiced at the very least.
Have a Racquetball or Squash Court You want to convert? Visit Here
College Financing Available – Learn More
Colleges and Universities around the Northern United States are aggressively building indoor practice facilities which are proving to keep their golf teams sharp and keep their spring scores lower than ever.
Recruiting Top Golf Talent
Historically schools located in areas with a 10-12 month golf season were able to gobble up all the top talent, leaving only the next level talent for the Northern Schools. Well, guess what? We have some good schools up here and the addition of a high-end indoor practice facility will make a significant difference while recruiting top-level players from around the country.
Virginia Tech chose Pro Putt Systems to help design and build the brand new Hokies Home of Golf. This project included 100% base panel coverage, inlaid True Strike Mats, TourPutt Ultimate putting turf, 3 lies to chip and pitch from, simulators and a significant amount of undulation.
Over the past few years, Pro Putt Systems has assisted in outfitting numerous schools with high quality practice equipment including:
University of Dayton
LaSalle University
Missouri Western University
Fairleigh Dickinson University
Roanoke College
Augustana College
Roosevelt University
McDaniel College
George Fox University
Freed Hardeman University
Eastern University
Carlton College
Lebanon Valley College
Bishop's University
Western Kentucky University
University of Rochester
Waynesburg University
Henderson State University
Saginaw Valley State University
Winona State University
Clarion Unversity
Gray's Harbor College
Albion College
Illinois College
Knox College
Salem State University
Binghamton Universtiy
Concordia University
Gray's Harbor College
Clarion University
Rosemont College
Notre Dame
University of California Berkeley
Virginia Tech
Harvard
Princeton 
Gonzaga
University of Southern California
West Virginia University
Wake Forest University
Penn State
U Cal Berkeley

Boston College

Marshall University

 
Here are a few examples:
Eastern University, in Philadelphia, had us build an indoor golf practice area outfitted with Foresight Sports Golf Simulators, Hitting Bays, Chipping Areas and a putting green in a previously unused room of Gough Hall on campus.
University of Southern California cut the ribbon on Feb 1, 2014 for their state of the art "Heritage Hall Golf Performance Lab" featuring a 2,200 sq ft Pro Putt Systems putting green, True Strike Hitting Mats and simulator/launch monitor technologies in the lower level of the building.
Henderson State University Director of Golf, Forrest Schultz, hired us to design and build this 3,200 square foot putting and chipping complex in the Ken Duke Indoor Golf Center. This project includes the putting and chipping greens, 4 hitting bays, 2 Trackman, True Strike Hitting Mats and 100% turf coverage in the main area of the building.
Western Kentucky University (Kenny Perry's Alma Mater) Women's Golf Coach Ron Burchett and Athletic Director Todd Stewart, recently installed a 16′ x 14′ L Shaped Green for their golf teams in a function room at their Bowling Green, KY campus. Go Hilltoppers!
The University of Rochester hired Pro Putt Systems to build this putting and chipping studio in a converted boiler room at the campus athletic facility.
We worked with University of Dayton Golf Coach, Gip Hoagland, to build a fully portable indoor golf facility with a 15′ x 60′ roll up putting green, a 6′ x 14′ green with base system as well as chipping and hitting mats.
Saginaw Valley State University and Head Coach Joe Vogl called on Pro Putt Systems to help design and build their 1,900 square foot indoor golf facility in a mezzanine level of their new field house on campus. The team will be adding a Foresight Sports Simulator in the coming weeks to round out one of the finest indoor golf facilities in the region.
The West Virginia Mountaineers head coach Sean Covich reached out to Pro Putt Systems to build a 46′ long custom putting green to complement their TrackMan Simulator. The green features inlay chipping areas and thick rough around the entire perimeter.
Could your team benefit from an indoor Golf Studio?
How Can Pro Putt Systems Help Your School?
The first thing to understand is that we can help you build an indoor golf facility that can fit any budget. We've completed projects ranging from over $100,000 to as little as $2,000. Some schools do not have space or the budget to build massive facilities. Many choose to utilize portable greens and even roll up applications in order to share gym space with other sports.
Our high-quality products gained significant notoriety for being chosen by:
PING's VIP Putting Lab
The

US

GA

Peretti Putters
Callaway
Titleist
Puma
K-Vest
Golf Pride Grips
Cure Putters
Sports Illustrated
Baltusrol Golf Club
Congressional Country Club
Over 100 Top Colleges and Universities
Numerous PGA Tour Players
Hundreds of Americas Top Teaching Professionals
Why are these top golf companies, players, instructors, and schools choosing Pro Putt Systems Putting Turf? Quality and performance, are the primary reasons. However, there's more to it than that.
We are golfers and we understand golf practice. Not only do we supply the best putting turf available, but we also have developed artificial hitting surfaces that offer unprecedented performance as well.
2 inch thick "rough chipping surface" which provides unbelievably realistic practice out of the rough
1.25 inch "fairway or tight lie" hitting/chipping/pitching surfaces
1″ foam-backed "apron" material
We offer 2 variations of portable, multi-surface chipping pads
Wall to wall golf rooms
Freestanding and ready to ship greens with raised putting surfaces
Custom made sizes to fit in virtually any space
True Strike Golf Mat Hitting Systems
Our core business is designing greens that utilize Tour Links interlocking base panels, they're durable, highly functional and when matched with our turf offer the smoothest and most consistent ball roll as well as awesome check and roll for chip shots.
Learn more about RACQUETBALL COURT CONVERSIONS HERE
We can work within any budget large or small.
If you have a specific amount of space and you'd like to maximize it but, you don't know where to start, no problem, we can make suggestions to maximize the practice functionality at the best price available.
College Financing Available – Learn More
Let's talk. If you are a college Golf Coach, Athletic Director, Player or potential Donor, visit our Contact Page and let us help you design the best indoor practice facility for your golf teams. We're here to help.

Posted November 6, 2014
by Pro Putt Systems
Most Recent Articles
Explore More Topics