Back to Top
Racquetball Court Conversions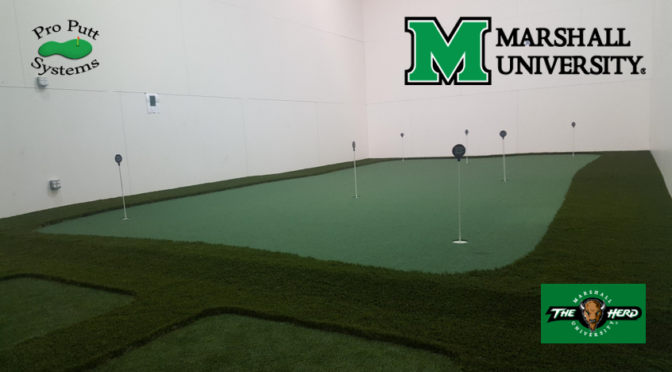 Converting a racquetball court to a putting green and shortgame practice area has become one of the most popular requests we get from college coaches and country club pros.
The regulation size of a racquetball court is 20′ wide x 40′ long. This size is perfect for any type of indoor golf application.
Some simply want to putt and chip like the court at Marshall University shown below. This green has plenty of undulation, inlay chipping areas with 3 lies, it is elevated on base panels so the ball drops into the cups and has a spot for practicing flat putts.


In many cases, we have had the opportunity to design and build a double racquetball court. Winona State University recently knocked down the center wall between two courts and we built an 800 sq ft indoor practice area shown below. This conversion has 2 hitting bays, 1 simulator bay, True Strike Golf Mats, inlay chipping areas, undulation and base panel system throughout.
Not all schools or clubs want to permanently convert their racquetball courts to putting greens so we built some large portable greens with base panels and the coaches can still putt, chip and create their own undulation with Easy Breaks and Undulation Kits.
Here is an example of an economical yet totally functional court conversion:
George Fox University did a beautiful room with full panel coverage, turf throughout and an inlay True Strike Mat for their soon to be installed simulator.
Augustana University had two courts they wanted to convert but they weren't able to knock down the wall in the center. We were able to fit 3 hitting bays in one court which we carpeted with putting turf for lag putting and aesthetics.
In the other court, next door, they built a full coverage putting and chipping area.
Binghamton University in New York built a great room in an unused racquetball court. This room has putting, chipping, undulation and an area for a net on one side which we carpeted with chipping turf.
Here's a nice design we just proposed for a side by side Squash Court conversion. Squash courts are rarely used these days and while not as big as a racquetball court, still plenty of room for simulation and putting areas. A regulation squash court measures 16′ wide x 32′ long.
Over the last couple years, we have converted about 30 courts into short game practice goodness!
Are you confused over which simulator or launch monitor company to go with? No problem, we can give you an unbiased consultation on that part too.
Let us know what we can do for you! Reach Out Today

Posted February 27, 2018
by Brett Joy
Most Recent Articles
Explore More Topics