Coupon Code Special! Ends without notice!
Use Coupon Code:    "SUMMER"    at checkout for 7% off and FREE SHIPPING on Standard Model Greens, True Strike Mats and Chipping Pads.
PLUS…..Special Bonus!
HURRY! Offer set to end when ball and hat supply runs out. Qualifying putting greens list: Green Monster, Pros Choice, Masters, Major Champion, Exec Tour Pro, Tour Pro, Ultimate Putting Trainer. Shop Putting Greens Now!
*Package Special options number 1 and 2 (below) qualify for Free Hat and Balls but not the 7% discount.
**True Strike Golf Mats, Tour Links Greens and Chipping Pads will qualify on their own for a 7% discount and free shipping but, not the Hat and Pro V1 offer.
***Hat and Ball offer begins at 3pm on June 3rd, past purchases do not qualify. Offer will end when supplies are depleted. Don't wait.
Turf Special:  
Shop Turf Now
Free Shipping Promotions are applicable to Continental US Only. For more information please visit: Warranty, Shipping Information Page
---
Odd-Sized Putting Turf Strips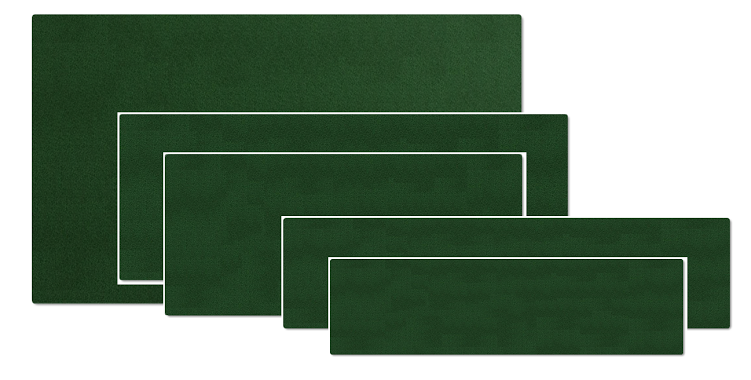 $225

–

$285
Select options
Easy roll out and easy storage. Great for beginners and for people who just want an easy way to practice their putting stroke on a regular basis.
This is the exact same turf we use on our Professional Putting Greens.
To cut a simple target hole in the turf:
Simply take a 4" saucer and use it as a template to cut a perfect circle in the underside of the putting turf.
To add simple undulations:
Simply place any household item such as cardboard, notebooks or copy paper under the turf to create break and undulations.
Even better undulation – Lowes sells 32″ x 48″ "Wainscoting" for $11.00 it is commonly used for dry erase boards, it's rigid yet a little flexible. Use this directly under the putting strip and place just about any item you want under the Wainscoting piece for very inexpensive, very flexible and very realistic undulation. It works great! You can emulate up-hill, down-hill , right to left and left to right breaks.
PUTT LIKE A PRO